This is the second in a series of articles giving you an Introduction to Digital Marketing Using the Extended Marketing Mix. This version focuses on the Price element of the marketing mix. There is a supplementary video that goes with the article: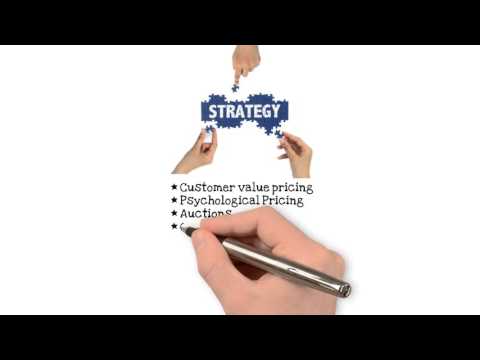 A key function of the marketing department is to establish the price that the market is willing to pay for a product or service. As a minimum the price should recover all overheads and provide the business with a profit. This profit and thus price, will depend on a number of factors, which include the brand positioning, competitor pricing, its position in the product life cycle, the demand and its availability. As an example, brands positioned as luxury goods will have higher margins and prices but they are likely to sell fewer items. Normal or 'everyday goods' will have bigger market shares but margins will be much lower.
There are many pricing strategies that can be adopted, they include, but are not limited to:
Customer value pricing
Psychological Pricing
Auctions
Going rate pricing
Reference pricing
Demand based pricing
Penetration pricing
Skimming.
These pricing strategies will depend on the company being either a 'Price Leader' or 'Price Follower'. Such pricing options have been challenged by the transparency provided through the internet: sites like Pricerunner (see figure 1) and Compare the Market (see figure 2) deliver customers with a view of the lowest options. So how should marketers manage such a dilemma? Sinha (2000) believes that:
"The optimal way of counteracting cost transparency is through innovation. Consumers will reward makers of new and distinctive products that improve their lives".
Figure 1: Example of Price Runner's product comparison.
Figure 2: Example of Compare the Market's price comparison on insurance.
This is true for the manufacturers of products and the designers of services, but it is somewhat different for retailers: they will be competing with other retailers who may be providing these 'innovative products' at a lower price. Retailers need to think about their service offering, the retailer brand should be known for a high service quality. The answers to the following questions should be attractive to the customers:
What is the cost of delivery and returns?
How long do customers have to wait for delivery?
What are the guarantees on the product?
Another option is to Bundle together a package to make the offering more enticing: this can blur the transparency issue. This bundling is similar to the concept of 'price lining': here different levels of service are provided at different prices. Price lining is common practice used in banking, insurance, telecoms and technology sectors. They also tend to provide good start up deals then increase prices at the end of initial contract: the premise here is that most people will simply choose to renew the contract rather than search for a new deal.
Another option is to use 'Smart Pricing' based on geography: you can either get the customer to type in their location or use their IP address to initiate a price profile. The best way is to get customers to sign up with their home address because IP locations can be fooled. The airline sector uses this approach a great deal (see figure 3, an example from KLM).
Figure 3: Example of KLM using geographical pricing.
For organisations operating in a B2B environment the issue of transparency is less of an issue. Suppliers of commodity type products would generally display 'List Prices' then offer deals and discounts depending on the quantities ordered or contract timeframes. Many ask potential customers to contact them directly so that a quote can be developed.
In sum, the digital arena has changed the way marketers think about price management. The transparency of the internet means that marketers need to develop new strategies to maximise profits for their organisations.
Reference:
Sinha, I (2000) Cost Transparency: The Net's Real Threat to Prices and Brands, Harvard Business Review, Mar to Apr 2000 issue
Click here to see part 1 of this article: An Introduction to Digital Marketing Using the Extended Marketing Mix: The Product.