How to develop a set of questions for a semi-structured interview is a series of four video blogs focusing on the points a researcher should consider when embarking on such a task. This final video blog explains how to develop a set of questions using an inductive approach. The first video blog discusses the differences between commercial and academic research. The second video blog explains how you can calculate the time it will take to do the task. The third video blog explains how to develop a set of questions using a deductive approach.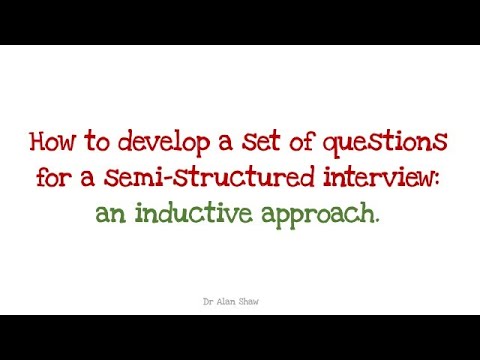 Again, you start with a set of research objectives/questions. In this case, let's say your primary goal is to find out why an individual elected to enroll on a marketing degree a Leeds Beckett University. Unlike the deductive approach, your objectives/questions will not include any associations with a theoretical framework. So, where do we begin? I would start by thinking of a set of categories, you can do this by yourself or by brainstorming the issues with your colleagues. You made end up with too many categories, so you will need to prioritise and cut back so that the interview process lasts within your given timeframe. You should also make sure you don't use the categories you identified as the themes, otherwise, it would be driven by your thought and not that of the participants. Let's say you had the following categories:
Awareness.

Location

University

Degree

Costs.

Offer
The questions you ask could be:
Awareness: What did you know about Leeds Beckett before joining the programme?
Location: What did you know about Leeds as a city before joining the programme?
University: What was it about the University that you liked/did not like?
Degree: What was it about the degree that you liked/did not like?
Costs: did the costs of the degree have an influence on your decision?
Offer: Did you get an unconditional offer from Leeds Beckett?
As before you would supplement each question with 2/3 other questions, which were based on their answers. The underlining factor in any questionnaire design is that the questions must address the key objectives/research questions. In terms of the six questions will take somewhere between 1 to 3 minutes to ask and gain an answer each, which equates to somewhere between 6 minutes and 18 minutes to complete. Factor in the introduction and informed consent process plus the summing up and you will spend up to 20 to 35 minutes on this task for each interview. Those interviews lasting about 20 minutes will yield very little, so you need to work on drilling deeper into the "why question". Hope that helps, next time I will talk about the process of doing the thematic analysis.
You can also find a free checklist e-book here.
The following two tabs change content below.
Latest posts by Alan Shaw (see all)